04/12
2010
New project: magellanearth.com
(2,208 views)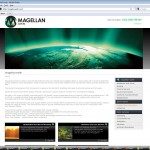 Following last week's redesign of magellanworldltd.com, this week it's time for the official introduction of magellanearth.com.
It is for our UK-based client Magellan World Ltd and provides information on Ground Source Heat Pumps:
"Recognising today's need to provide alternatives to the use of fossil fuels, Magellan Earth in conjunction with Transen Sustainable Energy Systems, have developed a range of Ground Source Heat Pumps (GSHPs) which harness the natural energy beneath your feet.
The ambient temperature from the ground is captured by the GSHP, amplified and used to provide heating and hot water.
GSHPs are an environmental solution that can reduce your carbon footprint by 80% over conventional methods."
(Visited 66 times, 1 visits today)