08/04
2011
I can has cheezburger (Why we?)
(2,612 views)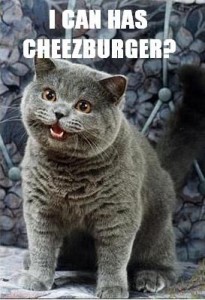 We received this (unaltered) email this morning.
And while we get similar ones constantly, the grammar used in this particular one was simply too atrocious to not share it. Names, email addresses and phone numbers were removed to preserve some dignity.
I bets they offers copyrighting service, too 🙂 Enjoy.
++++ original email ++++
We are a leading Link Building SEO Company, offers complete SEO services.

Many US, UK and Australia based Internet Marketing and web designing companies outsource link building service from us. Our submission service like, Manual Directory Submission, Article Submission, Social Bookmarking are very demanded for outsourcing at affordable reseller rate. Service can be pre-packaged or customized to suit specific front end needs. We would be happy to know if you are willing to outsource your link building need to us.
We Offers Following Link building Services:
Manual Directory Submission (Demanded outsourcing service)
Article Submission (Demanded outsourcing service)
Social Bookmarking (Demanded outsourcing service)
Contextual Link Building (Blog Review)
Press release writing & Distribution
One Way Link building (high PR Link)
Other Complete SEO Solution
Why We:
– All submissions are manual
– We are in SEO business since 2008
– Many companies are regularly outsource from us
– Single Stop Complete SEO Solution
– Affordable rate without compromise in quality
– 100% Satisfaction Guarantee
– Generally, we will reply within a day. (except holiday)
– On time reporting
We have reliably achieved great result for many companies; Let us know if you are interested and we would be happy to share our past work samples for any services you are interested.
++++ end email ++++
(Visited 220 times, 1 visits today)